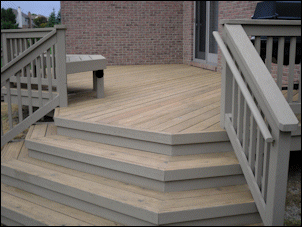 Michigan Deck Cleaning. We replaced several floor boards on this deck.  Can you tell which ones?  It is very hard to tell once it is finished with deck stain.  This is an example of a deck cleaning, sealing and repair in  Farmington Hills, Michigan.  We  try to weather our decking boards prior to installing them for a better match.  Of course, with new boards you can tell the difference.
March 27th, 2011
.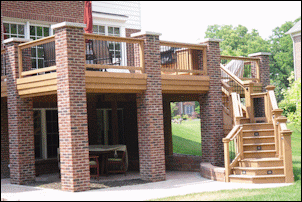 Would You Trust any Deck Staining company to spray this?  These two decks each cost well over $20,000 to build.  So why try to save a few $$ on the final step of having the deck sealed.   Trust Supreme Deck Restoration to properly stain and seal your deck by HAND BRUSHING the coating.  We don't need to tape off anything!  All we do is throw some drop cloths over the concrete below and start working.  The bushes do not need to be covered because there is NO over spray!!  When we leave all of the landscaping is green.  We offer free estimates in the Commerce, MI area. 1-800-965-2405.
Supreme Deck Restoration, Inc. Specializes in sealing,  staining, cleaning,  repair,  refinishing, building & maintenance of decks,  Rainbow Playsets, and fences, and all other exterior wood.  We have serviced over 16,000 decks in the Metro Detroit,  Ann Arbor,  Novi,  Rochester Hills, & Brighton (MI) Michigan areas since 1991.  We are detail and quality oriented providing you the best service in the deck refinishing and building  industry.  We have the ability to remove most prior coatings and restore them with new and improved contractor oil based coatings (Olympic, TWP, Rymar, Sikkens, and Superdeck). Unlike other deck cleaners, handymen, and contractors, we don't require a deposit to book your restoration job. It's just another way we strive to provide you with peace of mind.  Call us today for scheduling and more information about our deck care services.  Decks,  log homes,  exterior furniture,  & wood fences are what we do best and exterior wood surfaces are all we do.  By HAND BRUSHING all of our deck stain, exterior oil based coatings, preservatives and treatments on all the decks we stain is why we are Michigan's Premier deck restoration and refinishing contractors.   You can also trust Supreme Deck Restoration in the cleaning and restoration of your exotic hardwood decking such as IPE, Mahogany or bamboo.  Contact us for a free deck restoration or cleaning estimate in Southeast Michigan today.
Supreme Deck Building also has a building division that specializes in construction of wood and composite decks.  Click here for a deck building estimate from Supreme Deck Builders in Michigan.  Supreme Deck is a licensed and insured Michigan deck builder.   Deck floor replacement or  "re-deck" and is becoming a popular option with many deck owners. It is a less expensive option than a complete build, because we can use the understructure of your current deck.  Cedar deck floors usually rot out first, thus requiring a new floor.
Don't let your wooden deck go unprotected.  Metro Detroit,  Ann Arbor,  Rochester Hills,  Novi, and Brighton Michigan (MI) weather can be harsh on your wood deck, log home and fence.  Your exterior Cedar,  Pressure Treated,  and exotic hardwood deck is a large investment and favorite gathering place for your family and friends.  In order to keep your deck restored,  safe, and clean, you need to make sure it's properly sealed & maintained.  Count on a professional deck contracting company like Supreme Deck Restoration to insure that your Michigan exterior wood deck,  log home,  teak furniture,  Rainbow Playscape, and fence is protected for years to come.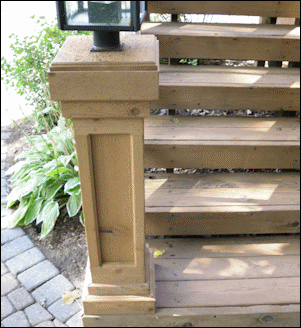 This deck is located in Commerce, Michigan.  The kingspost was rotted and very loose.  We rebuilt the complete kingspost to origional.  This type of work is very time consuming.  The deck was also pressure washed and stained in Olympic deck stain Cedar.