Deck Cleaning Rochester Hills, Michigan (MI)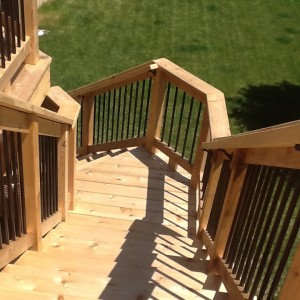 Call us for a free deck Repair Estimate in the Metro Detroit, Michigan area.
1-800-965-2405
Deck Cleaning Michigan is the leading Deck Restoration and refinishing deck service company in Metro, Detroit, Michigan area. Deck Cleaning Michigan and Supreme Deck Restoration, Inc. have partnered up to bring you the best service in the wood deck restoration and composite deck cleaning industry. We specialize in exterior wood deck cleaning, sealing, staining, sealing, repair, restoration, refinishing, and building of exterior decks.  Deck Cleaning Michigan also uses the top rated stain & sealers to seal exterior wood surfaces.  We have been sealing, staining, repairing, and stripping decks & log homes in Metro Detroit, Michigan since 1991.  We have serviced over 10,000 wood decks in the Oakland, Wayne, Macomb, Livingston, Lapeer, and Washtenaw Counties.  We use bio-degradable chemicals, top rated wood sealers, and deck stains (low V.O.C.) to help protect the environment for future generations.  Most of our new customers need help in the removal of previous wood deck coatings that either peel or fade (Most common stain being Behr from Home Depot).  Deck Cleaning Michigan and Supreme Deck Restoration, Inc. stains and seals our decks with professional oil based wood stain grade Olympic, TWP 100 series, TWP 1500 series, Duckback Superdeck, Blue label Penofin, Rymar Premium oil stain, Sikkens srd stain, and PPG Sunproof semi-transparent Coatings.  Unlike our competition, we apply all of our transparent and semi-transparent deck stain or sealer coatings by hand brushing, instead of spraying them.  If you get an estimate from another deck maintenance or wood deck restoration company that claims to be spraying their deck stains or sealers—RUN, especially if they quote you over the phone, site unseen.  Even when taping TWP, Penofin, and Superdeck deck stains it doesn't work well, because deck stains are very thin they will penetrate the masking tape glue and leave them stuck to the surface.  Furthermore, spraying deck light weight transparent deck sealers is a nightmare waiting to happen and our most commonly heard complaint from homeowners that have hired other deck contractors in the past.Wood Decks, Log Homes, & Rainbow Play system
Your deck and log home is an investment and it needs to be maintained every year to keep it sealed and protected from the environment.  The suns UV damage destroys all deck coatings very rapidly and most exterior deck wood coatings only last for 12-18 months on the horizontal surfaces even the top rated coatings (Olympic, TWP, Sikkens, Superdeck, & Rymar).  Let Deck Cleaning Michigan and Supreme Deck Restoration, Inc. give you a free estimate on your deck care and Rainbow playscape restoration needs.  Call us today for scheduling and more information on our deck care services.  Exterior wood decks, Rainbow Playscapes, Log Homes, and wood siding are all we do.  Count on deck cleaning Michigan & Supreme Deck, Inc to insure that your exterior wood deck and log home is protected for years to come.
Behr Deck stain finish removal or stripping
Deck Cleaning Michigan has the experience and chemicals to remove even the most stubborn of coatings, except solid color stains or paint.  From our experience solid color stains and paint can't be removed with any chemicals or a pressure wash, they simply just need to be recoated with another solid color stain.  They only way to remove solid color stain or paint is to sand them off, which is very costly.  Behr semi-transparent stain from Home Depot is a common deck stain that homeowners apply and we remove because of failure.  Behr stain was formulated for the West Coast and does not hold up well in Michigan winters.  Most Homeowners find that come the following spring that the Behr product did not penetrate and starts to show peeling problems.  The removal of Behr stain is a 4 step process. Behr stain or other film based water borne products are hard to strip and can not simply be power washed to remove it, unless you want an uneven and poor looking job.
Pressure Washing & sealing your Composite or Trex deck
Deck Cleaning Michigan and Supreme Deck Restoration have the ability to remove the mold from your trex or composite deck.  When deck owners installed their composite deck, manufactures told deck owners that their trex deck would never rot and was maintenance free, well, 10 years later Trex says it was a low maintenance solution.  Trex now recommends that their original composite plans be sealed with a waterborne composite sealer because they were suspect to mold.  Deck Cleaning Michigan has cleaned and sealed hundreds of homeowner's composite decks.  We have tested sealers for the composite decks that will slow the mold growth down.
Deck Repair & Supreme Deck Builders
Let Supreme Deck, Inc. builds you a deck to show off to your entire neighborhood and family.  We are a licensed deck builder that has several highly trained employees that can design and build you deck to be proud of.  We use Azek, Trex, Cedar, Deckorators, and pressure-treated materials to construct most of our decks in Metro Detroit, Michigan.
We also offer deck repair services from one floor board to a complete tear out of the floor of your deck, called a re-deck.  On our board replacement for the deck, we weather most of our wood to a silver color prior to installing it to insure that is matches up better to the rest of the deck. This is because, all new cedar lumber has a mill glaze on the wood that acts like a skin and does not allow the stain to penetrate properly causing it to stand out after it is stained for several years. New Cedar lumber is just high in natural oils, so the TWP, Penofin, and Rymar deck stains can't penetrate it.  You will find most deck repair companies go to Lowe's or Home Depot to buy new cedar and install it. By doing this you have to look at a floor that looks very uneven (old and new boards) for a few years until it weathers.  By weathering our lumber we have solved this problem.  When we wash and seal the deck all of the boards are very close to matching up when the job is complete.
Wood deck repair and board replacement and deck Leveling
Deck Cleaning Michigan has several experienced crews trained in deck repair and board replacement, so we can replace any of your decks rotted wood boards to complete deck tear out.  None of our work is sub-contracted; all of our employees are trained to handle all of your exterior wood deck care needs. Any of them would be glad to walk the deck with you and point out any problems with rot.  Pressure Treated wood generally doesn't rot, it splinters and warps.  We have the ability to level your deck if it is heaving or sinking.
Wood Teak Furniture, Pergolas, Fences, Table & Chairs
We can pressure wash and clean any type of wood surface you may have that needs restoration around the house. It is cost effective to have it done while we are there working on the house, deck, or Rainbow Play set.  The biggest expense to any service company is the trip and set-up.  We charge minimal to add on small objects.  We just need to know in advance or at least before leaving the job site.  Deck Furniture is the most common item homeowners forget to mention to us.
Deck Cleaning Michigan gives free estimates in the Oakland, Wayne, Washtenaw, Macomb, Lapeer, and Monroe County areas.  We have trained people in the office to answer your calls, our calls are not transferred to a cellular phone or voice mail.  Deal directly with the owners on the estimate for any questions that you may have about your exterior wood deck or Rainbow Play system, or Log home.   You will have an estimate on the day of the bid and not several days later.  Call us today for your free wood deck restoration or log home analysis.
1-800-965-2405 or visit http://SupremeDeck.com or http://www.DeckCleaningMichigan.com
Deck Cleaning, sealing, and staining Process
Prior to starting work on any jobs we will remove any furniture and any other items from your deck and place it far enough away from the deck so it doesn't get damaged.                          (It's the home owners responsibility to put removed items back on their deck)Step 1 – Apply Chemicals to the deck
Proper surface preparation is the key to any successful deck restoration and Cleaning project. First, all the vegetation around the deck will get saturated with water prior to applying any chemicals. This will act as a tarp for all of your plants.  Then we will apply a bio-degradable chemical deck stripper or a deck cleaning to soften and remove the existing failed wood stain, sealer, or mold/mildew.
Depending what stain was last applied to the deck will depend on how strong of chemical will be used on the deck. Film and water-based stains are the hardest to remove from any deck or exterior wood surface
Step 2 – Pressure Wash the composite or wood deck
We will use a low-pressure to remove the previous coating and any dirt on the deck. We typically use between 1,200 and 1,800 psi on the deck depending on your previous coating and how strong the chemical is used. You want to be careful that the wood is not burned with the force of the high pressure water. To ensure top quality we let the chemical do most of the work.  Power washing a deck is proper only with the use of the right chemicals.
Step 3 –Apply the Wood Brightener to the cedar or Redwood deckOnce again we will rinse the working area prior to brightening the wood. Once the house, concrete, brick, siding, and plants are rinsed we will apply a Wood deck brightener to the complete deck. The wood brightener will restore the wood back to the original blond color. The brightener also neutralizes the chemical stripper and restores the ph balance of the wood.  This will give any wood with a high acid content a blonde appearance and remove the gray in the wood.  The only exception is pressure treated wood.  The wood brightener step is omitted.We are usually back to stain or seal the wood deck 1-3 DRY days later.
Step 4 – Staining of your wood or composite deck/gazebo/Log Home
We will apply the wood stain or wood sealer by HAND BRUSHING the complete deck making sure extreme care is given by making sure no stain gets on anything but the deck. We only apply 1 coat to the verticals. For an extra charge customers like to have 2 coats applied to the floor and tops of rails for added protection, since once coat typically looks dry on the deck flooring. The products we typically use are TWP-100 transparent stain, Olympic Semi-Transparent deck stain, and Sikkens SRD transparent stain, Penofin stain, and Rymar Xtreme weather wood sealer. You will want to stay off the deck for several hours to the rest of the day after the deck has been completed. PPG Sunproof (Olympic's Private Label by PPG) is used for our solid color jobs, for a professional job our solid color stain and paint are sprayed to ensure all areas get covered.  This stain is a lot thicker than the transparent and semi-transparent oil based coatings.  The undersides of decks are becoming more popular with homeowners, we recommend these be solid color stained vs. a natural coating.
TWP, Penofin, Rymar, Duckback Superdeck, Olympic, & Messmer's stains
The Stain Depot-Online web wood stain store for low prices on deck stain
For low priced wood deck stains visit  http://theStainDepot.com
Want to clean, stain, and seal your deck, log home, or rainbow playset yourself?  Visit our eCommerce wood deck stain store front for the lowest prices on deck coatings.  We pass our pallet pricing on to you.  We can have our top rated deck stain and sealers delivered to your front door within 5 business days.  Lowest prices on wood deck stain like: TWP 100 series, TWP 1500 series, Rymar sealer, Olympic stain, Penofin, Duckback Superdeck, PPG Sunproof, Messmer's, and Genemi Storm Shield wood stains.  Or call us today at:
1-800-965-2405
We are a licensed Michigan Deck Builder and experts in deck Construction, and deck building.
Please note
**Supreme Deck, Inc. Builders License is held under:
Craig V. Niner
26221 Grand River Ave.
Redford, MI 48240
License Number 2101196679