Supreme Deck Restoration-Livonia has been restoring decks in the Metro Detroit Michigan area since 1991. We offer the services of deck repairs, rotted wood replacement and deck leveling and can return most decks back to level. We update hardware to today's codes if needed. We can add deck tension ties to guard rail posts to secure the rails. We update the post and beam connection with half inch through bolts from decks that we see that are simply nailed. Nails tend to rust with time an will not hold the weight of a beam. We can add joist hangers to decks that were never installed on or rusted . We commonly see decks that need additional posts and are over spanned and can correct these problems. In some cases where the deck is built so bad we recommend that the deck be re-built. Let us restore your existing wood deck so you can enjoy a few more summers on it.
| | | | |
| --- | --- | --- | --- |
| Canton, Michigan | | | |

Deck leveling for Michigan homeowners
The last two winters we have seen a record amount of decks that have risen from the cold Michigan winters. We are able to level the decks for homeowners and update their current hardware to codes of today.
We Service: Canton, South Lyon, Milford, Commerce, West Bloomfield, Bloomfield Hills, Troy, Rochester Hills, Livonia, Plymouth, Northville, Novi, Brighton, Ann Arbor, Ypsilanti, Royal Oak, Birmingham, Farmington Hills, and Shelby areas.
Rebuilding a staircase or adding a staircase
What do deck builders do in the winter? Build decks. If you are looking for the best price on a Trex deck or a wooden deck it is best to have the work done after December 1st. This is when we give our rock bottom prices. Large decks see the biggest discounts during this time and you have a new deck for spring.
When to seal a new deck?
Pressure treated lumber is southern pine that is treated, it undergoes a process in which it is soaked with a liquid solution of copper azole preservative. At this point this "wet" board is either shipped out to consumers, or it undergoes a drying process called KDAT. KDAT or Kiln Dried After Treatment, is a method in which lumber is dried in a controlled environment before being sold. The KDAT process takes place in a giant kiln where controlled temperatures combined with airflow between each board, ensures the lumber is dried uniformly. Traditional decking without this extra step often take 8 months to a year to dry out, making it less desirable as it is exposed to the harsh sun and environment for that drying time. The boards are more likely to cup due to the top surface drying out faster than the bottom. Deck boards will often start to grey since they aren't sealed for protection. It is recommending that KDAT decking is stained immediately after installation to ensure maximum protection.
Below are some of the benefits of using KDAT Lumber:
-Ability to be immediately or pre-stained without waiting months for wet treated wood to dry naturally.
-Fast staining reduces twisting, cupping, and warping
-Less shrinkage problems
-Lighter material
-Environmentally sound; less leaching possibility since re-drying assures maximum fixation within the wood.
-Better fastener holding power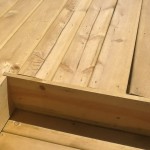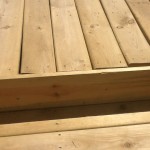 Harsh winters and hot, humid summers can do a lot of damage to deck surfaces – but it's not always necessary to replace your entire deck.
We offer complete resurfacing solutions including:
Inspection of the frame and structure to make sure it's solid and safe to re-use
Consultation to determine your material options (vinyl, wood, or low-maintenance Trex®), along with any deck lighting, pergolas, benches or privacy screens you'd like to add
Removal of all existing decking
Installation of your new, beautiful deck with a design that you already know and love
Skirting a deck
A beautifully built deck can be enhanced by a single feature that will add appeal and function by enclosing the underside of a deck with decking material or custom screening. This particular detail I am talking about is called skirting. While many homeowners prefer having skirting around their deck, others like to leave it open. This will all depend on your personal preference and your own project. When considering adding skirting to your newly-built structure, there are several points to consider.
1. Height of the deck
Most commonly, we will add skirting to decks whose elevations are between 1' and 4' off grade. We have gone up to 8' high on the skirting when the elevation sits higher, but keep in mind that this will often result in a "solid- wall" look. The skirting will be a very visible part of your deck, so the higher your deck, the more visible the skirting material will be to yourself and to your neighbors. On the other hand, if you intend to landscape around your deck, the landscaping itself might serve as a privacy screen for the underside of the deck. Again, this will depend on the elevation of your deck.
2. Purpose of the skirting
Skirting will enclose the underside of the deck which will hide the not-so-pretty structural members. In addition for aesthetic appeal, it will allow you to keep miscellaneous outdoor objects under the deck and out of sight. This includes ladders, outdoor furniture, tools, flower pots, etc… objects that can withstand some exposure to the elements. Finally, many homeowners are concerned about keeping critters out from under their decks. While this may be effective to some extent, there will still be some animals that will find a way to burrow tunnels through the ground to make their home under your deck. The advantage of having skirting is that it will be more obvious by the tunnels you may find giving you clues to these critters' presence.
3. Material of skirting
The most common skirting material used to complete the deck will most oftentimes be the decking material itself. For example, on a wood deck we would continue with wood decking on the vertical surfaces, and on a Trex deck we would do Trex skirting. This allows for a look of continuity between horizontal and vertical surfaces. Another option is to use custom-built treated lumber or cedar lattice screens. This is also a beautiful option providing a closed-off look but allowing for air ventilation. Lattice skirting tends to be more fragile than its composite or solid wood decking counterparts. If choosing this route, the wood will have to be treated every few years to withstand the abuse of the elements. That is also a point to consider- how much time to you want to devote to the maintenance of your skirting material? One last thought on material options is how your family will use your yard. If you have little kids that love to play soccer or slug a baseball, a more durable option for skirting that can withstand the abuse might be beneficial.
There are so many options to finishing off the look of your deck. For some, solid skirting would be the more visually appealing and most functional option. For others, a custom lattice choice will complete the look. Finally, plants and shrubs can accomplish the job while omitting a skirting completely. In conclusion, there is no wrong answer.
We are a top rated TrexPro deck builder and carpenter. When you hire a contractor make sure they are licensed and insured.
Ann Arbor | Auburn Hills | Belleville | Berkley | Beverly Hills | Birmingham | Bloomfield | Bloomfield Hills | Brighton | Brownstown | Canton | Carleton | Chesterfield | Clarkston |Clawson | Clinton | Clinton Twp | Commerce | Dearborn | Dearborn Hts | Detroit | Dexter | Farmington | Farmington Hills | Ferndale | Fenton | Franklin | Garden City| Gibralter | Grand Blanc | Green Oak | Genoa Twp | Grosse Pointe Farms | Grosse Ile | Grosse Pointe Park | Grosse Pointe Woods | Hartland | Highland | Holly | Howell |Huntington Woods | Keego Harbor | Lake Orion | Lincoln Park | Livonia | Macomb | Madison Hts | Milford | Monroe | New Baltimore | New Boston | Mason | New Hudson |Newport | Northville | Northville Twp | Novi | Oak Park | Oakland Twp | Oxford | Plymouth | Pontiac | Redford | Macomb Rochester | Utica | Rochester Hills | Romulus | RoyalOak | Salem | Saline | Shelby | Southgate | Southfield | South Lyon | Downtown Rochester | St. Clair Shores | Sterling_Heights| New Baltimore | Taylor | Trenton | Troy | Walled Lake | Waterford | Warren | West Bloomfield | Westland | Wixom | White Lake | Woodhaven | Orion TWP | Ypsilanti | Brighton Township | Lyon Twp | Oakland| Grosse Pointe | Milan | Keego Harbor | Mount Clemens | Wyandotte | Bingham Farms | Sylvan Lake | Orchard Lake | Lapeer | Ortonville |Whitmore_Lake | Fenton | Lake Fenton | Goodrich | Dundee | Metro Detroit | Downtown Ann Arbor | Downtown Rochester | Downtown Brighton | Bloomfield Twp | Downtown Plymouth | Lake Orion Heights | Downtown Northville | Plymouth Twp | Commerce Twp | Village of Clarkston | Grosse Pointe | Grosse Pointe Shores | Rochester Hills |Washington Twp | York Twp